WELCOME TO THE AFFILIATE INFORMATION PAGE!
Quick Start Guide to Keto was created to help people follow the ketogenic diet in the healthiest way possible. 
During the five modules and 18 lessons in the course, students learn what keto is and how to incorporate it into their lives in a healthy way (full of nutrient-dense vegetables, plenty of minerals and hydration, and high-quality protein and fats). 
Students are taken step-by-step through the essential steps to set themselves up for keto success, including a full pantry cleanout and restock, establishing an evening routine for optimal sleep, and each step of the 28-Day Foundations Reset, a pre-keto phase to help support their nutritional foundations as well as their organs of fat digestion (i.e. liver and gallbladder) to make the transition into keto as smooth and successful as possible. 
Students are equipped with a wide array of practical resources, including meal plans and recipe guides (with over 75 keto-friendly recipes) sortable tables with the fats, carbs, protein, calories and net carbs for many common keto foods, digital shopping lists they can easily access on their smartphone, self-assessments to make sure they're on track, and a complete keto resource hub with many examples of healthy snacks and foods that can be eaten during their keto journey.
As a Nutritional Therapy Practitioner, Functional Assessment Specialist, and Board Certified Holistic Health Coach, I have worked with a number of different therapeutic diets to help support my clients in reaching their health goals and know that the keto diet can be such a powerful one for people – when it's done correctly.
It's my intention, with this course, to help show people how to do the ketogenic diet correctly, and to use the practical tools, tips, and tricks that I've gleaned from working with hundreds of one-on-one clients to help them implement it successfully.
Below, you'll find the outline for the course, including each module and lesson.
If you'd like access to the course itself, I'd be happy to provide you with a login. Simply scroll to the bottom of the page to find out how to connect with me, and my team will get you set up with access!
Our affiliate program is managed through ThriveCart, a robust yet simply-to-use affiliate platform where you can easily view how your links are performing each day, your commission history and all information on your payouts.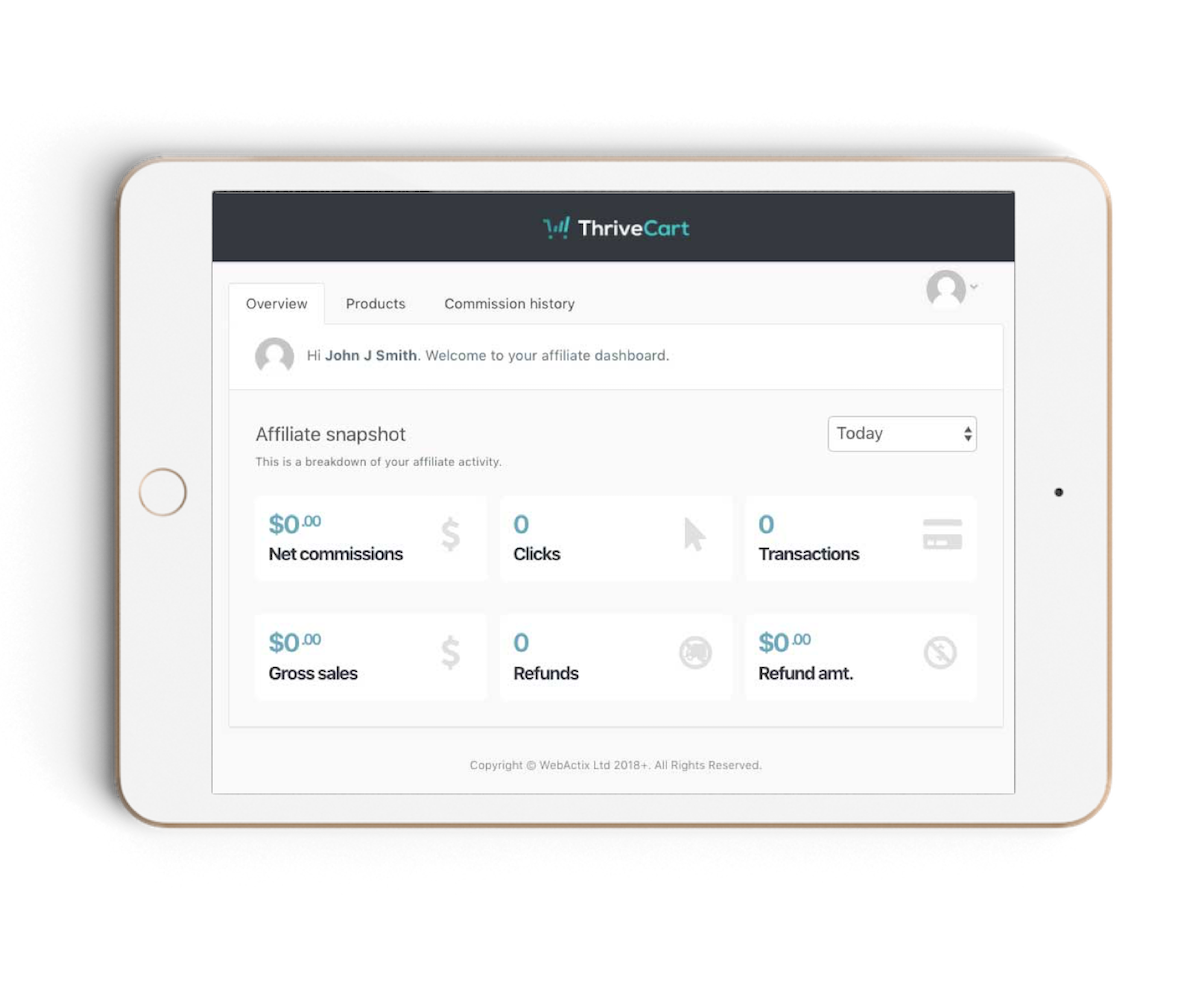 As an affiliate, you'll receive a 45% affiliate commission on each sale you make.
Our cookies are tracked by "last used" and do not have an expiration.
Affiliate payouts are currently made on the first day of each month following a 30-day holding period.
In an effort to make things as easy and flexible for you as possible, you can also set your own funnel tracking code as well as set your own bonus delivery URL within your affiliate dashboard.
On our Affiliate Assets page, you'll find banner graphics as well as pre-written emails and social media posts we've put together to help you promote Quick Start Guide to Keto.
We also love collaborating with our affiliates! Our team is happy to work with you directly to provide images, customized email copy and coupon codes for your audience (up to $50 off the $147 course price) to help make it easy for you to promote the course and to assist you in incentivizing your audience to purchase through your affiliate link. Jessica is also available for delivering webinars and Facebook Lives to your audience. If you're interested in exploring collaboration ideas, simply reach out to us at hello@quickstartguidetoketo.com.
How can I access my affiliate dashboard?
Where can I get my affiliate links?
What is my commission and when are my payouts made?
You'll receive a 45% affiliate commission on each sale you make.
Affiliate payouts are currently made on the first day of each month following a 30-day holding period to accommodate for any refunds.
How can I connect my PayPal account to receive my payments?
How are your cookies configured?
Our cookies are tracked by "Last used" and don't expire.
What are you using for your course set up and delivery?
Our course is build on a WordPress website using the Divi theme and we use Memberpress to protect our course content. We host our course videos through our protected Vimeo Pro account to help speed our site load time. 
We use ThriveCart to help streamline the checkout experience for our customers and we integrate our website with SendGrid to ensure enhanced deliverability of course access details for students. 
At every touchpoint of the sales process and course delivery process, we provide our contact information to customers so that they can reach out to us and get support if they run into any issues accessing their course or logging in. 
We take our customer support very seriously and respond to all customer support inquiries within 24 hours during normal business hours.